12 Dec '15
Artists of Woodbridge: Andy Krieger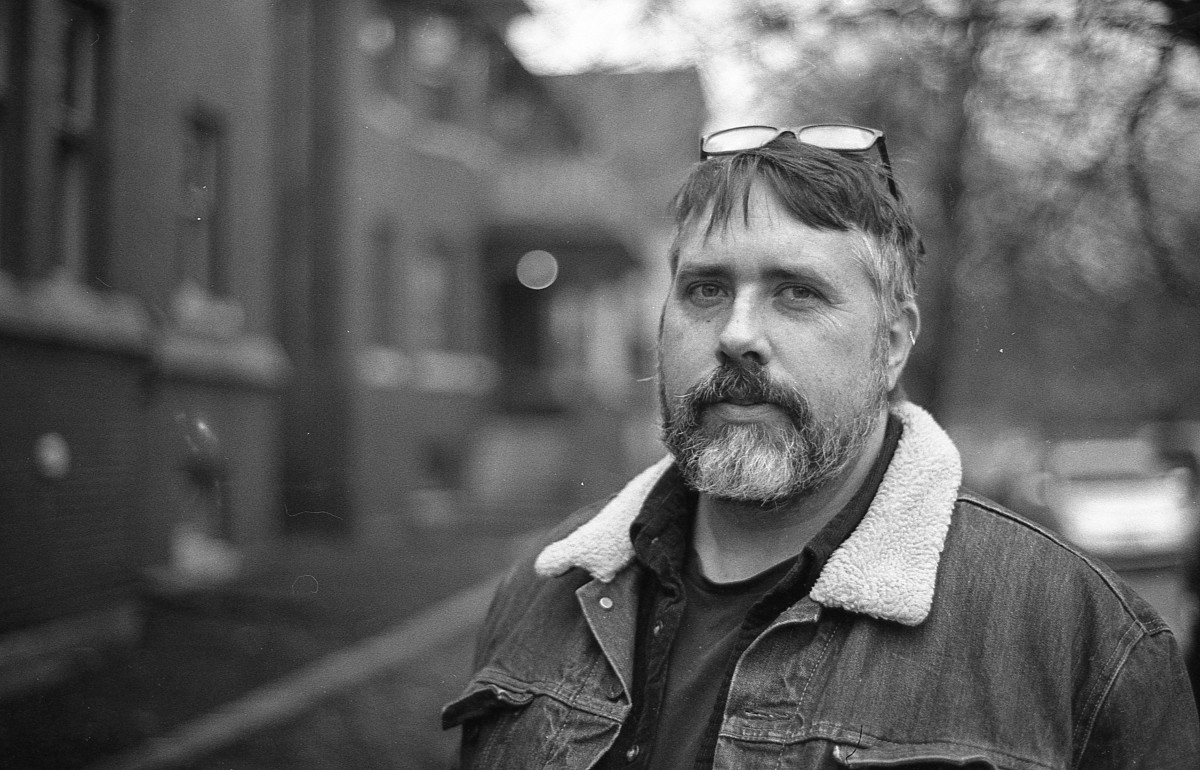 In the mid-80s, Andy Krieger went to art school and then dropped out. He put his time and effort into carpentry, which now is a large part of how his art is made. He admittedly hasn't been a practicing artist for that long. It was the mid-2000s when he first started drafting pieces, and his background in carpentry was something he didn't want to lose when that began. Krieger grew up in the city and now lives in Gross Pointe Farms. These days, he works out of his garage and does some woodworking at TechShop Detroit in Allen Park.
Krieger and I stood in front of the newest wall-mounted painting in Woodbridge, which went up in October on the corner of Commonwealth and Hancock. Looking up, the girl appears to be either be diving, or doing a flip. Stepping back onto the street, it's clear she's flipping. Krieger worked the piece up from a photograph of a friend's daughter and it elicits a sense of motion. The girl's suggested spinning movement gives the feeling that there is something moving on the corner, and there is.
In the past three years, countless new installations from murals to paintings, bike racks to flower beds (art in their own regard) have continued to sprout up, further making Woodbridge a Detroit neighborhood unique for its sheer number of public art installations and thoughtful landscaping.
TL: How did your work come about in Woodbridge?
AK: He (Larry) contacted me and asked if I'd be interested in doing something. So, we met up and he said he had a few sites around the neighborhood that he had open. I mentioned I had this painting;  we started looking at this spot and thought it would look good there. We agreed, and that was it.
TL: Was there an outside input on the piece's orientation or was it just do your thing?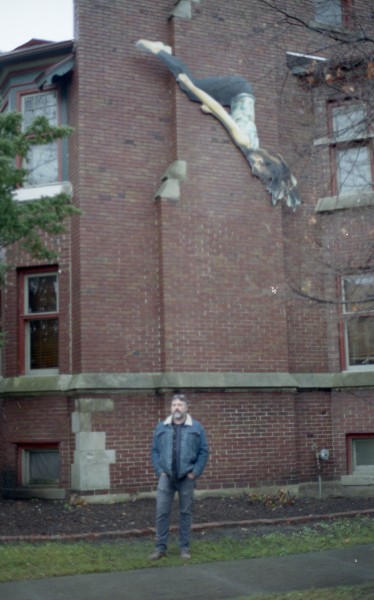 AK: It can only hang one way. So, it was a matter of just plopping it on the wall.
TL: Are there more locations where there's potential for your work?
AK: I saw a couple of spots that had potential. But, really, once we saw this location, he liked this painting that I had already done. It just seemed like a good spot.
TL: It does. My only concern is this tree here. But, it's kind of the nature of Woodbridge, isn't it? You have to ride or walk through in order to find all the art.
AK: Yeah, I mean, there's a lot of art here. It's a little crazy.
TL: Talk more about this piece. Did this come about from a photograph or do you conceptualize the whole thing before you begin?
AK: I work from photographs. This is a friend's daughter. I was doing some other work that involved back flips in paintings and this piece just came about. It was part of the big show in Highland Park that Robert Sestok put on. I did this painting for that show. I meant it to be exterior, outdoors. It has an auto-finish on it.
TL: What does it mean for you to be a part of what's happening here in terms of public art?
AK: There's a couple of things. First, I like to be a part of a community — to contribute something. Whether people like it or not is a different story. There was a post on the Woodbridge facebook group (laughs). There was some reaction to it.
TL: To what?
AK: There was some reaction to all the art that's going on in Woodbridge. Mine was singled out, which is fine. It's going to happen with anything. Everyone has an opinion. On the other hand, I think it's cool.
I'm an artist. I like art. I like to see art. I think it can help a place. I think it can help peoples' everyday lives. It can brighten your day. That's the platform that I'm coming from.
TL: What's up next?
AK: I'm going to be part of the Actual Size Biennial over at Whitdel, next weekend. There's a million artists. All the art is either postcard size or 8.5×11.
TL: You have to tell someone from out of town what's unique about the Woodbridge neighborhood. Obviously the first thing you tell them is the art?
AK: Yeah. It's two things. The housing. The amazing houses here and the art. The treeline streets. It's got a lot going for it.
So much has changed in the last couple of years. Things you never thought you'd see in your lifetime.
These houses are beautiful and deserve to be fixed up.
TL: What do you want for art in Detroit?
AK: (pause) I guess I'd want more of it. I'd want people to be able to handle it — to handle some change and be accepting of it. It's so hard with art and artists, and gentrification. Like, the example in New York where the artists would move in and change things, and the rent would start to skyrocket. I don't think it's the artists' fault, but they're the first to come in and sort of change the community.
I love art. I'd love to see it everywhere. Shit, I don't know…