20 Dec '15
Artists of Woodbridge: Jason Huffines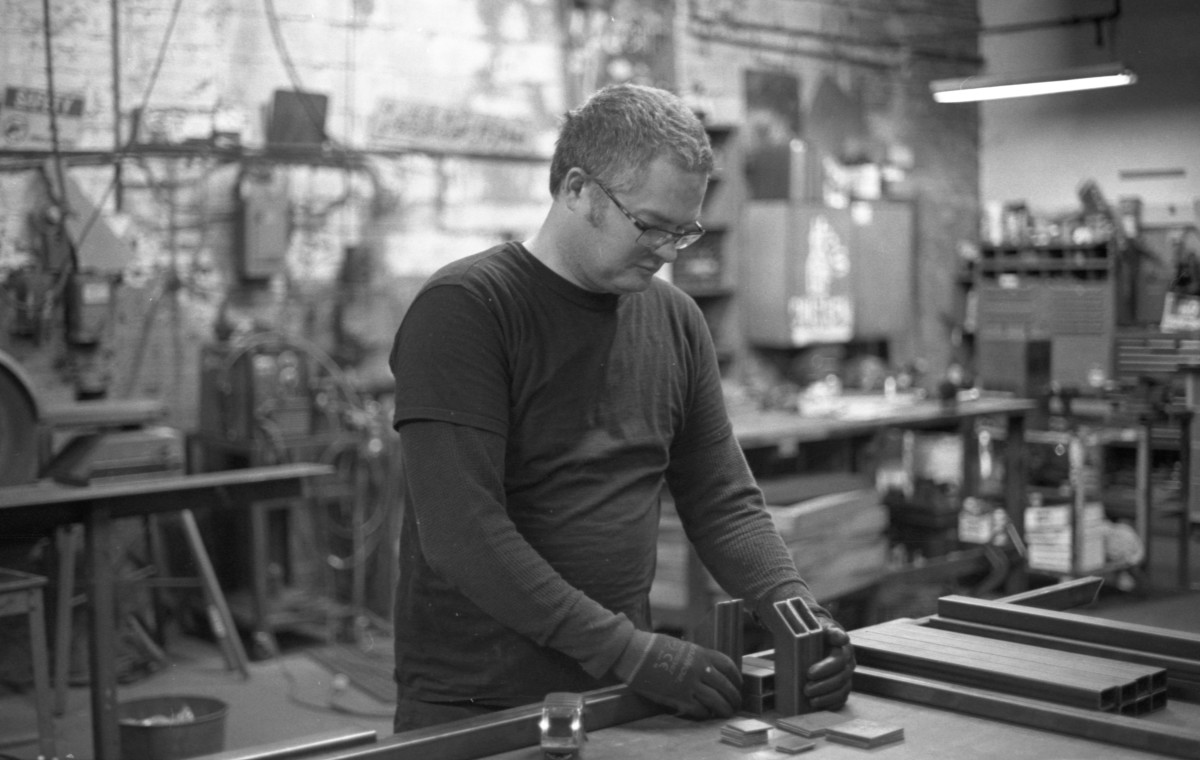 Jason Huffines doesn't consider himself an artist. He's a fabricator.
From Harrison Township, Huffines attended the Center for Creative Studies in the late 90s, and began working with Alex Porbe and others at their workshop on East Mack.
His bike rack, "Doormouse" is a first-generation functional bike sculpture in Woodbridge — one of the first of many to begin dotting the neighborhood starting in 2012.
I sat with Jason and talked about his time at the workshop, what he does, and how industrial design has become a integral form of Detroit art in the past decade.
He's a man of few words, at least when being interviewed. The good news is that he speaks volumes with metal and wood.
JH: I stayed in town and started working for him (points across the office to Alex Porbe) and Gonzalo here at the shop. I started getting my own clients and accumulating tools. Alex left, and then Gonzalo left, and I was stuck here so I kinda had to make something happen.
TL: So you guys work on a lot of the same projects?
JH: Sometimes. I started working for him, and learned a bunch of stuff from him.
TL: If I went around town, looking for some of your work, where would I look?
JH: Bar and restaurant stuff; Angelina, a lot of lofts, standard staircases and guardrails, that kind of thing. More quality than art.
TL: You don't consider yourself an artist?
JH: Not like what others do.
TL: So if someone comes to you and expresses that they need something in this space, do you conceptualize?
JH: Yeah. I conceptualize and, sort of come up with a design, but I'm more utilitarian. Craftsmanship.
TL: The creative aspect of it — you're more into the fabrication. Is that what you prefer to do, or is that the way it's always been?
JH: I prefer to fabricate rather than design. I'd rather have someone give me a drawing that they already have. Maybe I'll improvise on the design a little bit, make it better, but I don't like doing drawings and stuff like that. I'm not a big fan.
TL: What are you currently working on?
JH: A restaurant in Lake Orion. I'm doing all the tables and architectural elements on the inside of the building.
TL: When you see your work around town, and you put that together with what's happening in the city right now, how does that feel?
JH: I'm just happy to have work. You just keep doing good work and giving quality quotes. Don't rip people off — that goes a long way. You just have to do good work, and be honest about the price. I don't do any advertising. All of this is word-of-mouth stuff. And, you have to get it done. It ain't no good unless it's done. A lot of people take the money and don't do the job.
TL: Do you have any desire to be more creative?
JH: Yeah. I do my own art stuff. I've had shows just doing small pieces and sculpture — if I have time. You have to be inspired to do it.
TL: But sometimes, don't you get up and force yourself to do it?
JH: I like the work, though. I don't have any problem working. If it's all cut out, and laid out, that's fine. But, sometimes when you have to come up with your own designs, it's a little harder to do, and you get kind of stuck.
TL: Alex mentioned that sometimes egos fly, around here.
JH: We've known each other for a long time, so we talk to each other openly. We're never really pissed at each other or anything like that. I can be a dick, too. There's a certain way I like to have things done. Everybody's different, though. We have six different people in here: a couple of guyys in the woodshop and in the metal shop there's four.
TL: You kept the fire alive here, in this shop while others were gone?
JH: I just kinda kept it going. We're renting it. We just do all the bills and cut it four ways in here. There's two guys in the woodshop and they just give me a flat rate.
TL: So, the dogs live here?
JH: Yup. They're basically part of the shop.
TL: What happens when there's no one here?
JH: I have a camper in back. I actually stayed here for three years. It was better than paying rent. I just bought the camper and lived back there since I was here all the time working. Then I got a girlfriend and moved out there for a couple of years. She kicked me out so I had to come back here to the camper. I was just over the camper-life so I got an apartment, and then Chris took over the camper, so he's always here.
TL: They're nice dogs.
JH: We've never had a problem here. We've always had dogs here. When Alex started out here, he had dogs. I had two more dogs. This is like the third generation. You can take some pictures of these dogs. They're pretty photogenic.
TL: What do you want for art in Detroit?
JH: As long as the work keeps flowing, that's good. I don't plan on being here forever. I would like to one day simplify everything and not have a bunch of tools and just have a small, little, tiny overhead. Maybe do a little welding, some structural shit. Somewhere maybe in the middle of nowhere, away from human beings — Montana, or Wyoming, or something, you know?
But, right now this is good. I'm digging it. Eventually when I can't do the hustle anymore.