9 Feb '17
Artists of Woodbridge: Jon Phillips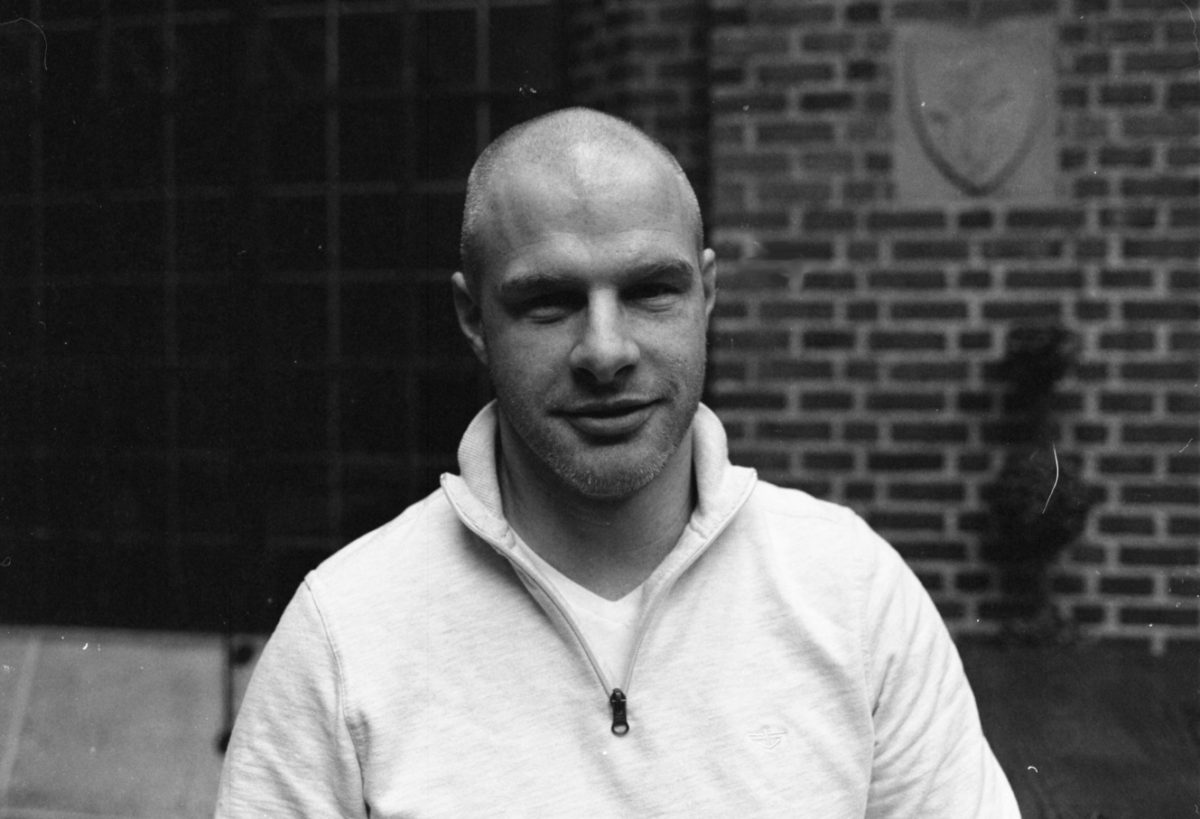 Jon Phillips had never been to Detroit before he decided to move here, start a degree, and begin as all artists should while beginning their studies and try to understand what it is that's unique about his voice.
AIW met with him to talk about moving to Detroit, his view of the art taking place in Woodbridge, and what Detroit could teach to other cities in terms of public engagement.
AIW: What brought you to Detroit?
JP: I was born in Alaska and was raised there for twelve years, then my dad moved us down to the Seattle area for his work. It's kind of a roundabout way, to here, because I decided to go back to school. The college for creative studies is here — a pretty well known design school. I'd actually never been to Detroit before. That was a pretty big leap. But, the quality of faculty and the work that I saw online was enough to make me say "maybe this is the way to go." And then, Detroit itself — I didn't realize how big of an art center Detroit is. Traveling through the streets, exploring, I was blown away by the level of creativity in the city.
AIW: You landed here when?
JP: August of 2015.
AIW: And how did you get involved with Art in Woodbridge?
JP: I did a mural a couple of blocks away from one of Larry's properties. He was driving past while I was painting it, this past summer. We talked about. He was interested. I didn't know this but he fills his properties with work, which is amazing. We talked a bit and he told me his idea. We looked at quite a few spots around the neighborhood. We got onto the idea of doing Garfield, to juxtapose against the buddha.
He wanted something to bring a comedic side to the serious that the buddha represents.
AIW: There's a lot of things you could have chosen. What made you land on Garfield?
JP: That was primarily Larry's idea. What I like to do — if it's a commissioned piece, I like to flesh out the main idea. Larry had talked about doing a comic. Garfield, as a cartoon, has a serious casualness to his character and I think that's what he was going for. As far as the content, it was Larry's and I added some positioning and other technical aspects to it.
AIW: When do you think you'll graduate, and do you think you'll stay afterwards?
JP: Probably the spring of 2019. Staying here? That's a good question. I'm not sure yet. Detroit, being that it's so well represented, I feel like there's a huge respect for the arts in this community, and that really attracts my interest. But, being that there are friends and family back in Seattle, I feel pulled back to the west coat.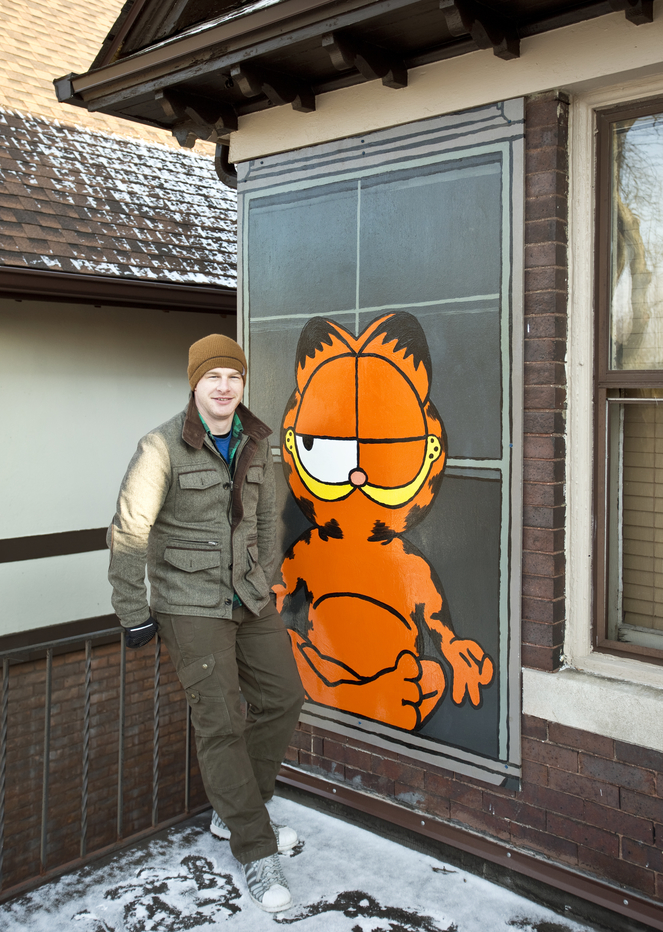 AIW: Picture yourself back in Seattle in 2020. What of Detroit will you have brought back with you?
JP: A couple of things I think Seattle has lost, in even a decade of growth. Community. Detroit, as far as I've found so far, is really centered on community – the people who are here. I've been to a lot of different, community-led outreach prorgrams, or, community service projects and been surprised at the level of participation. In Seattle, that's kind of disperesed because the economic climate of Seattle has grown at such a rapid pace and it's displaced that kind of thing.
AIW: Anything else planned here while you're studying?
JP: In general I want to increase the statement of my pieces. Whether that's towards local government or local causes. I feel like I have a pretty good voice but I need to learn how to use it correctly, especially in a community that I haven't been part of more than two years. That's my primary goal, outside of school.
AIW: Are there any artists that have made an impact on you while you've been here?
JP: Nicole MacDonald, John Sauvé , Carl Milles, Diego Rivera, Senghor Reid and so many artists from College for Creative Studies. The level of artistry in and around Detroit is amazing.
The second time I met Larry, he took me on a tour of Woodbridge, pointing out various projects. My expectation in the begininng was that we happened upon some installations, not too many, but as we walked around I found that they were almost littered about, not in a bad way. In almost every corner you could find a little piece of that mentality towards putting art into the neighborhood. I have some friends who live there, and I'd seen some art, but then touring around with Larry, I got the sheer scope of how much art was there, and that blew me away.
First of all there's a focus at that level, towards art. I think it's really healthy because it shows culture, and the time investment. Time investment not only in the pieces that are there, but also the placement of those pieces. It's pretty cool too, because there are pieces that probably took 40 hours or more, and they're tucked away. You'd have to be in Woodbridge long enough to explore, and go through the alleys — those are the hidden gems.
I know in Seattle there's a neighborhood called Fremont, but again, that culture has really dispered. It used to be very focused. And, there are remnants of it, but I think Woodbridge is a healthy representation of community doing it currently.
AIW: What are your words, if any, for young artists like yourself who express interest in coming to Detroit?
JP: I would say they should try and identify what makes them unique before coming here. They don't even have to know for sure if that's what makes them unique, but have the openness to explore what it is that makes them unique. I've found that, of the art I've seen, there's such a wide range of styles that almost everything is represented, from fine art to street art, and the melding of the two. I find myself in the current place I'm in, that I'm identifying what makes me unique. It's a continuous process. The sooner they can get started on that, the sooner that can make leads on producing the best art they can.