13 Sep '15
Detroit Portrait Series: Poets & Publishers Mural Installation at Eastern Market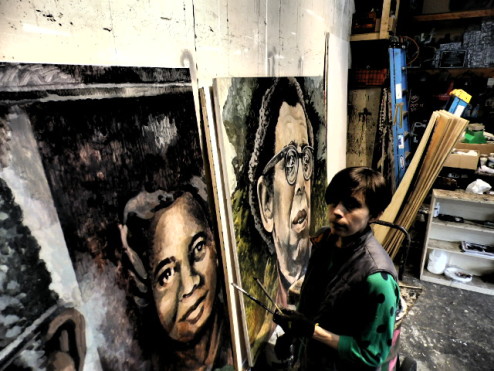 (DETROIT) – On Sunday, September 20th, five Detroit poets and publishers depicted in the ongoing public art project, 'The Detroit Portrait Series,' will stage readings of their works at Detroit Eastern Market (Shed 3).
Beginning Saturday, September 12​th​, the five readers' portraits along with those of Philip Levine, Mick Vranich, Dudley Randall, Robert Hayden, and Sixto Rodriguez will be displayed on large­scale painted panels in Shed 3 for one month.
After their residency at Eastern Market, the panels will travel to their permanent location in the Woodbridge neighborhood of Detroit where they will be installed on the boarded­ up windows of the Liquor Store on the corner of Trumbull Ave and I­94 service drive. ​The series is sponsored by Larry John and Dr. Lilian Lai of Woodbridge Co., who have renovated Woodbridge properties and promoted public art in the neighborhood for the past 35 years.
Each of the poets and publishers depicted in the series have made a significant contribution to the city of Detroit, through the establishment of independent writing presses, outreach organizations, and their role as educators ­­ in an academic setting and beyond. The ultimate installation site of these portraits, across from Wayne State University, is intended to connect the significant role that the university has played in the scholarship of many of these writers.
Portraits in this series are part of an ongoing public art project by Detroit muralist Nicole Macdonald. The series is inspired by Howard Zinn's ​A People's History of the United States​, which aims to tell history from the 'bottom­up', portraying leaders and everyday heroes who have struggled for justice and equality.
Wayne State University Press will be in attendance to introduce the authors, book signing to follow the reading.
EVENT: Public unveiling of ten large­scale portraits, meet and greet with muralist Nicole Macdonald, followed by poetry reading with poets featured in the portrait series. Book signing with poets to follow reading.
DATE​: Sunday, September 20th, 2015
TIME: 1:00-3:00pm reading, 3:00-4:00pm book signing
LOCATION: Eastern Market, Shed 3 (center of building), 1445 Adelaide, Detroit, MI 48207
More information contact: Nicole Macdonald / nicolexodus@gmail.com / (313)­ 330­-5643